On-Campus Care at East Hall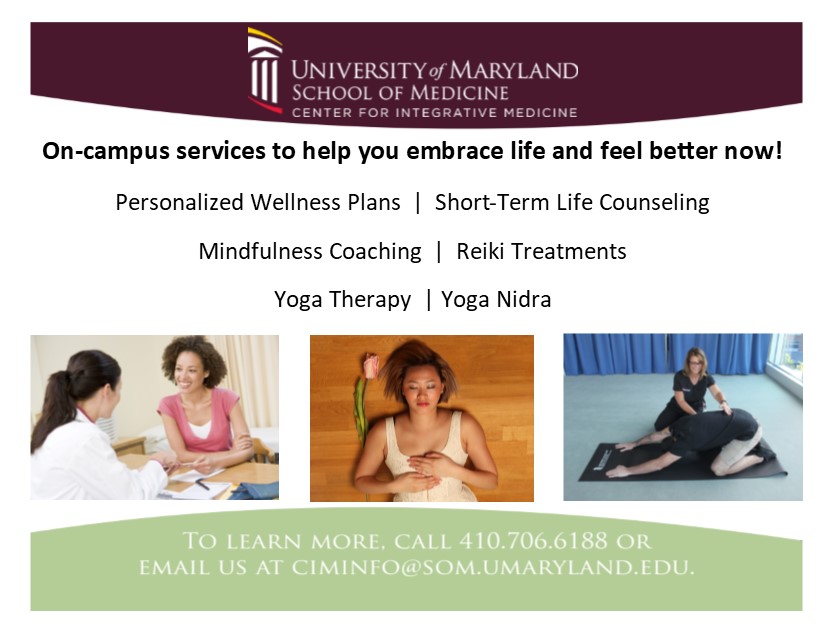 Personalized Integrative Medicine Services
What we offer:
Life coaching and short-term counseling will help you set SMART goals or just figure out how to handle some things that you are dealing with right now. Mindfulness counseling gives you the tools to be present and focus on the here-and-now rather than all the millions of things you have to do, so that you can get everything done in a calm, peaceful mindset. These sessions are about 50 minutes long and will give you guidance on the path to not just survive, but THRIVE!
Reiki – energy work that focuses on relaxation; can be hands-on or hands-off; 15-, 30- or 50-minute sessions – two providers (Kelli and Beka)
Yoga therapy – Yoga Therapy is the application of poses, meditation and breath and other yogic modalities to address an individual's goals. The practice is customized for the client by a certified yoga therapist and is perfect for anyone wishes to support their wellness, manage stress, anxiety, or a chronic medical condition. All practices can be modified based on the client's capabilities. The practice offered at CIM is 50 minutes long and no experience or flexibility is required.
Yoga Nidra – Yoga Nidra is a guided meditation practice that provides the deep relaxation that leaves you refreshed like you just had a full, good night's sleep. No special clothing required.
Providers:
E. Blaine Tucker, CRNP, MS, AGACNP, PMHNP
Director of Integrative Clinical Services
Kelli Bethel, PT, C-IAYT, E-RYT 500
Physical Therapist
Certified Yoga Therapist
Director of Yoga Therapy and Yoga

Details:
Number – 410-706-6188
Email – CIMInfo@som.umaryland.edu

Location – 520 W. Lombard Street, East Hall Building, Wellness Room on the 1st floor
All are welcome - staff, students, faculty, patients, family members, nurses, physicians, EVERYONE!


Hours (subject to change - by appointment only):
Blaine: Personalized wellness plans, Short term life counseling, mindfulness coaching – Mondays and Tuesdays 9am-4pm
Kelli: Yoga therapy, Reiki, Yoga Nidra – Thursdays 1pm-5pm
CALL 410-706-6188 TO SCHEDULE AN APPOINTMENT.

Cost (subject to change):
Fee for service - Cash only - Due at time of service
$40/30 min with Blaine
$80/60 min with Blaine
$50/50-minute session - Yoga Therapy/Yoga Nidra/Reiki with Kelli