Culinary Medicine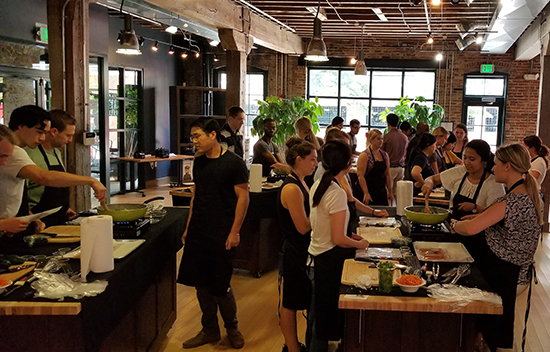 Culinary Medicine is a Popular New Part of the Medical School Curriculum
The Center for Integrative Medicine at the University of Maryland School of Medicine (UMSOM) is proud to initiate and implement a Culinary Medicine workshop for medical students. Chris D'Adamo, PhD has been working with the UMSOM Office of Medical Education to include this workshop in the Introduction to Clinical Medicine course requirements. UMSOM is one of the first medical institutions to offer Culinary Medicine to increase future physicians' nutrition knowledge for self-care and patient care through this didactic and experiential class. The Culinary Medicine team taught "food as medicine" in collaboration with The Institute for Integrative Health including use of their teaching kitchen and staff, and with support from Terra's Kitchen and Performance Foodservice.
Objectives - By the end of the workshop, students were able to:
Discuss the concept of culinary medicine and how it is being applied in medical education and patient care
Describe the broad landscape of popular diets, including published evidence and common themes across diets
Identify the evidence, practical application, common misconceptions, and how to cook variations of the Mediterranean diet
Apply session content to help overcome common barriers to healthy eating
Results are in - Medical students completed a pre- and post-workshop questionnaire. Some results are:
87% of medical students reported that they will utilize the information they have learned in the culinary medicine workshop in their own life.
80% of medical students feel that the culinary medicine content will help them offer practical nutrition advice to future patients.
After participating in the workshop, 67% of students feel very prepared or prepared to provide healthy eating recommendations to patients in clinical care compared to 38% prior to the culinary medicine workshop.
What the medical students are saying...
"As a first-year student, I am so excited that Maryland has implemented culinary medicine into their curriculum. The concept of "food as medicine" is meaningful in my personal life, it is something I am extremely passionate about and feel is often lost in many practices. Every medical student should receive this training. The food our future patients fuel themselves with is just as important to maximizing their overall health as the medicine they're prescribed.
With Culinary Medicine being implemented into our core curriculum, our graduating class will be better equipped to work with future patients in empowering them to live healthy, balanced lifestyles, to both prevent disease and to heal from it."
- Madalyn Myers, MS I
"The Culinary Medicine Experience provided an educational, evidence-based approach to learning about different diets, what their implications are, and how to integrate nutrition into our future medical practice. Additionally, the hands-on opportunity to prepare a delicious, healthy meal made this a unique experience not found at many medical schools."
- Matthew Chrencik, MS I
"The Culinary Medicine course was an engaging lesson that provided me with knowledge and mindfulness of the ways nutrition can be incorporated to improve the daily lives of my patients and myself."
- Jacqueline Hwang, MS I
"I believe this nutrition training for medical students is crucial to giving the best care possible to our patients and not only treating disease but preventing it as well."
- Kimia Abtahi, MS I
"Culinary Medicine taught me the importance of treating food as medicine. As healthcare professionals we will all have a responsibility to teach our patients how to be healthy, which often starts in the kitchen. Through this course, I feel confident in my ability to discuss with patients what it means to eat a healthy diet and how to incorporate the foods they love in moderation."
- Aaron D'Amore, MS I
---
The School of Medicine is creating a video about this program and will release it shortly. To learn more about this unique program, contact Christine Barnabic at cbarnabic@som.umaryland.edu or Chris D'Adamo at cdadamo@som.umaryland.edu.