Integrative Services
We aim to provide evidence-based integrative services to aid in self-care for the UMB/UMMC Community. We offer experiential & didactic sessions in group, small group and individual formats. We are able to provide in-person, on-site and virtual sessions. We have knowledgeable experts to lead participants through engaging sessions.
‌As part of the University of Maryland, Baltimore's Launch Your Life Program for UMB employees workplace wellness, our team leads sessions on yoga, meditation, breathwork, tai chi, pilates, nutrition, seated massages and more.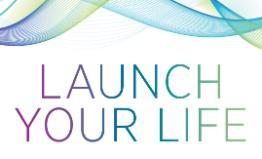 Learn more about Launch Your Life.
The Team
Christine Barnabic, MS, RYT 200, Reiki Master
Topics: Chair/Mat Yoga, Meditation, Pilates, Mindfulness, Nutrition Education including General Health & Wellness
Christine is the Academic Services Manager at the Center for Integrative Medicine (CIM), part of University of Maryland School of Medicine. She completed her Master's Degree in School and Administrative Health in 2013 and her Bachelor's Degree in School and Community Health in 2007 from Towson University. Prior to her position at CIM, she worked in brand marketing and taught health in the Maryland Public School System. She has also taught gymnastics and volunteered with the American Red Cross, Cupids Charities benefiting the Children's Tumor Foundation and locally as a Chair on the board with the Federal Hill Main Street neighborhood organization.

She completed three types of Barre and Pilates trainings through M.Power (2015), worked with Kim at Baltimore's original Barre studio Charles Street Barre (2016) and Pilates/ Barre training with Jason Williams (2017). Since then she has also started Yoga Teacher Training including Reiki. She is experienced in teaching health and wellness from age 5 to 85 and incorporating physical activity to encourage others to increase their personal strength and power of positivity.
Elizabeth (Liz) Parker, PhD, RD
Topic: Practical Nutrition
Liz is an Assistant Professor of Family & Community Medicine in the Center for Integrative Medicine, part of University of Maryland School of Medicine. She completed her PhD in Human Nutrition, Foods and Exercise (HNFE) and Bachelors of Science in HNFE with a double option in Dietetics and Exercise Health Promotion at Virginia Tech. She is a Registered Dietitian and Certified Personal Trainer. Her research interests include obesity, energy balance and lifestyle interventions to improve health and chronic disease related outcomes.
Sean Vasaitis, PhD, MS EHS
Topic: Tai Chi
Sean completed his doctoral work in Molecular Pharmacology and Experimental Therapeutics at the University of Maryland School of Medicine in 2007. He holds a Master's degree in Exercise and Health Science from Miami University, Ohio and a Bachelor's degree in Biology from the University of Maryland, Eastern Shore.
Sean's research goals follow the overarching concept of integrating Western approaches to medicine and pharmacological therapy with evidence-based complementary medicine to further a holistic approach to disease treatment. In addition to his research in novel drug development and metabolic function, he has taught taijiquan (tai chi) to patients with stroke, cancer, multiple sclerosis, cardiovascular disease and diabetes as part of studies with Johns Hopkins Prohealth, the University of Maryland School of Medicine, and within his own business practice.
Miriam Doyle-Baschat, LMY, RYT 500, Reiki Master
Topics: Chair/Mat Yoga, Move and Meditate, Breath Practice, Reiki
Miriam is a 500-hr registered, experienced Yoga Alliance teacher. She is also a licensed massage therapist, Usui Ryoho Reiki Master, Usui/Holy Fire Reiki Master and Karuna Reiki Master. She has teaches yoga to survivors of stroke and brain injuries. Miriam also teaches in teh Center for Integrative Medicine 200-hr Yoga Teacher Training. She believes Yoga is accessible to everyone and can be instrumental in building a happier and healthier relationship with yourself and your environment.
Julie Snavely, RN, E-RYT 200, Reiki Practitioner
Topics: Chair/Mat Yoga, Move and Meditate, Breath Practice
Julie is a 200-hr registered, experienced Yoga Alliance teacher and currently taking her 500-hr Yoga Teacher Training with the Center for Integrative Medicine. She has been working with Yoga for Stroke survivors program for 13 years. She has also taught yoga to children and people with chronic medical conditions. She is a registered nurse and has a passion for integrative yoga in healthcare, both as a preventative and assisiting on the healing journey.
Cassondra Smith, LMT
Topic: Seated Massage
Cassondra is a licensed massage therapist who has been practicing for 15 years. In addition to learning about Swedish, Deep Tissue and Myofascial Release massage in school, she has also been trained in sports massage, prenatal massage and many other techniques. She worked at a day spa for 13 years, as a freelance massage therapist, and was faculty at a massage school for a number of years. Now, she does both home and office visits and is a "traveling" massage therapist.