Our History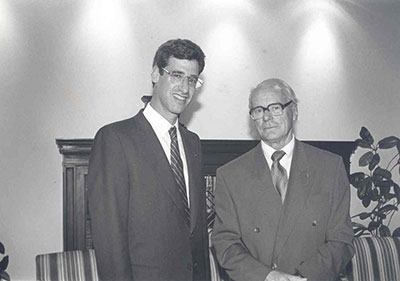 When Brian Berman, MD met with leaders at the University of Maryland School of Medicine over a quarter of a century ago, he started with a dream of bringing the best of complementary medicine and conventional medicine together through rigorous, evidence-based research, exemplary education and superior, patient-centered care. In 1991, with the support of Sir Maurice Laing (pictured here with Dr. Berman) and the Laing Foundation, and the openness of the University of Maryland, Dr. Berman opened the doors to the first integrative medicine program at an academic medical institution.
Dr. Berman's dream has evolved with the changing times into something more powerful than just what types of therapy a patient receives. Building on our firm base, grounded in innovative research, clinical care and education, the Center for Integrative Medicine continues our drive toward wellness. We empower to patients to choose his or her own individual path to healing and wellness by both offering care and educating healthcare providers how to care for themselves and guide their patients to their own unique place of wellness, as well as by using research that extends from the laboratory to the bedside and beyond.
Timeline:
1991-1994: With support from the Laing Foundation, founded as a part of the University of Maryland Pain Center, became the first U.S. academic medical center-based program in integrative medicine
1994: Received first National Institutes of Health grant (R21) to study the effects of acupuncture on osteoarthritis
1994-1997: Became a division within the Department of Family Medicine at the University of Maryland School of Medicine, becoming the "Division of Complementary Medicine"
1995-1999: Awarded U24 grant from National Institutes of Health as a Center for Alternative Medicine Pain Research (CAMPRE)
1996-present: Coordinating center for the Cochrane Complementary Medicine Field, gathering over 72,000 clinical trials (as of July 2017) and coordinating the worldwide effort to systematically review and provide summaries of the evidence for integrative medicine with a network of more than 22,000 people in more than 120 countries
1997-2003: Awarded Program status at the University of Maryland School of Medicine, becoming the "Complementary Medicine Program"
1998-2003: National Institutes of Health U01 grant to study acupuncture safety/efficacy in knee osteoarthritis
1999-2004: Center for Alternative Medicine Research of Arthritis (P50) from National Institutes of Health/National Institute for Arthritis and Musculoskeletal Studies
2000-present: Became part of the BraveNet Clinical Network, the first practice-based research network in integrative medicine; there are now 14 members
2001: Founding member of the north American Consortium of Academic Health Centers for Integrative Medicine (recently renamed Academic Consortium for Integrative Medicine & Health); Dr. Brian Berman elected as the first chair
2003-present: Became the "Center for Integrative Medicine," an organized research center within the University of Maryland School of Medicine
2004: Dr. Berman's seminal article "Effectiveness of acupuncture as adjunctive therapy in osteoarthritis of the knee: a randomized, controlled trial" published in the Annals of Internal Medicine
2005-2011: A National Institutes of Health "International Center for Traditional Chinese Medicine Research," studying traditional Chinese medicine and functional bowel disorder, with Chinese University of Hong Kong
2005-2011: National Institutes of Health Center of Excellence for Research in Complementary Medicine (P01) studying arthritis and traditional Chinese medicine
2005: Dr. Berman was awarded the

Bravewell Leadership Award

for transforming medicine
2006: Invited by Physician in Chief Thomas Scalea, MD to collaborate on patient care in the world-renowned R Adams Cowley Shock Trauma Center
2010: Dr. Berman's article "Acupuncture for chronic low back pain" is published in the New England Journal of Medicine
2013: Maryland Hospitals for a Health Environment joined the Center for Integrative Medicine team
2013-present: Yoga programs offered including Healing Pathways, 200 & 300-hr Yoga Teacher Trainings(YTT) and advanced YTT modules.
2015-present: Integrative services collaboration with UMB Human Resource workplace wellness initiative, Launch Your Life.
2019-present: Culinary Medicine inducted into the medical school curriculum for first and second year medical students.
2019: Center supported by UMSOM and UM Greenebaum Comprehensive Cancer Center.
Other Notables:
Research program in acupuncture, herbs, nutrition, supplements, mind/body therapies focused on arthritis, pain, inflammation, cancer, depression, trauma and more
Over $53 million in research grants
Over 675 scientific publications in peer-reviewed medical journals
Campus collaborators have included Shock Trauma, Medicine, Rheumatology, Oncology, Epidemiology and Public Health, Dentistry, Nursing and others
US Collaborators have included Harvard University, Yale University, UCSF, University of Illinois Chicago, Duke University, University of Arizona and more
International collaborations with Chinese University of Hong Kong; Charité University, Berlin; University of Zurich, Switzerland; University of Western Sydney, Australia and others
Clinical team of doctors and licensed integrative practitioners, including acupuncturists, massage therapists and nutritionists, with over 20 years of experience in offering patients coordinated medical care, wellness consultations, and treatment of acute and chronic conditions
Core curriculum courses and electives for medical students in integrative medicine, including a focus on nutrition, manual medicine, and mind/body skills that collectively encourage healthy lifestyles and self-resiliency