Our Programs
We are proud of our highly rated, innovative educational programs. Our programs are targeted to preclinical and clinical physicians-in-training, resident physicians, medical fellows and practicing healthcare professionals, including hospital-based nurses.
Our expert faculty members offer dynamic, evidence-informed integrative medicine and health education to the healthcare leaders of the future.
Select a tab below to learn more.
Professionals
Integrative Health and Wellness Graduate Certificate
The Integrative Health and Wellness certificate is a unique, 12-credit graduate certificate program offered entirely online through the University of Maryland, Baltimore. This one-year certificate is designed to help advance participants' careers in integrative health and wellness.
In the four courses, participants will have the opportunity to learn about and experience the fundamental concepts, philosophies, and methods of integrative health, as well as integrative mind-body interventions, the fundamentals of health coaching, and how to apply their knowledge of integrative health and wellness to assessment and treatment planning.
For more information:
Medical Students
Fourth Year Medical Student Elective
Our 120-hour fourth year medical student elective consistently receives positive student evaluations. The four-credit course is available to students at the University of Maryland School of Medicine and other U.S. accredited allopathic and osteopathic medical schools. We offer the month-long course twice a year, usually in February and April.
Students learn an evidence-based, integrative approach to both patient care and self care with exposure to many integrative modalities including meditation, guided imagery, nutritional supplementation, qigong, yoga, acupuncture, Ayurveda, naturopathy, manual medicine, and more.
The didactic and experiential curriculum is presented within a health and wellness framework and students are encouraged to create and pursue a wellness self-care plan during the course. The use of a dynamic online platform enriches the face-to-face learning experience. The course fills up quickly and often has a waiting list so sign up early!"
---
Culinary Medicine
In a groundbreaking advance for medical student nutrition education, all medical students at the University of Maryland School of Medicine (UMSOM) will be participating in Culinary Medicine education as a component of the core curriculum.
Among the first medical schools in the nation to implement the required course, UMSOM aims to increase future physicians' nutrition knowledge for self-care and patient care through this didactic and experiential class.
In the Introduction to Clinical Medicine I and II courses, students receive evidence-based instruction in nutrition and popular diets, learn how to overcome common barriers to healthy eating, and cook together for experiential reinforcement of the lecture.
Under the leadership of Dr. Chris D'Adamo and the Center for Integrative Medicine team, the Culinary Medicine medical student training is offered in collaboration with The Institute for Integrative Health and with support from Performance Foodservice.
---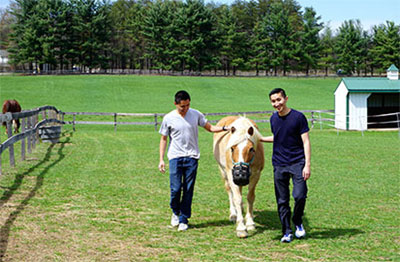 Independent Study Elective
For third or fourth year medical students whose schedules do not allow them to take the Senior Medical Student Elective, an independent study Integrative Medicine elective is available.
Residents
We offer Integrative Medicine lectures, experiential seminars and wellness retreats to residents and faculty in varied departments, including family medicine, internal medicine and preventive medicine. If you would like to request a wellness retreat for your department please email us at CIMEvents@som.umaryland.edu.
Fellows
Fellows at the University of Maryland, Baltimore can access integrative medicine education in varied ways. We offer didactic lectures and seminars to clinical UMMC departments, such as anesthesia pain management and the R Adams Cowley Shock Trauma Center.
In addition clinical Fellows have attended both our month-long and independent study integrative medicine electives.
International Students
A 2-week summer elective is available for international students of medicine, nursing, acupuncture, and other healthcare professions.