Research
Research: Advancing the Science of Integrative Medicine
Reaching from laboratory to patient bedside and out into the community, our research program looks at a variety of impactful approaches to whole-person health.
From the time Dr. Berman started the program in 1991, the team has excelled at obtaining research funding, from government organizations like the National Institutes of Health, private funders, corporations and foundations. We have secured over $50million of research funding and our research faculty have disseminated findings of their research in over 625 peer-reviewed articles. Read about our history here.
Seminal studies looked at the effectiveness of integrative therapies, such as acupuncture, mindfulness, nutrition, nutritional supplements, exercise, and herbal therapies, for health concerns like arthritis, back pain, Lyme disease and addiction.
Learn about our past studies by therapies here.
Learn about our past studies by health concern here.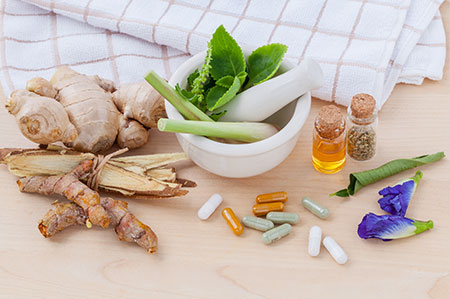 Current studies include nutrition and meditation for urban teens, effectiveness of a low-dose iron supplement for women with fatigue, food gardens for hospital employee morale and nursing home resident morale (pictured), effectiveness of a probiotic supplement for adults with gastrointestinal symptoms, how families cope with death, and more. Learn more about our current research studies here‌.
If you are interested in being a study participant, click here.
The Food and Community Health program (formerly Maryland Hospitals for a Healthy Environment) evaluates the impact of bringing local, healthy, and sustainable foods into a wide variety of institutions in need across the nation, including hospitals, nursing homes, and schools.
Our Center also coordinates the Cochrane Complementary Medicine Field, an NIH-funded program that evaluates and disseminates worldwide literature on complementary and integrative therapies. See Cochrane reviews on complementary and integrative therapies here. Visit the full Cochrane CAM website here.

Our collaborators span the globe – Duke University, Harvard University, Johns Hopkins University, University of California San Francisco, Hong Kong University, Chinese University of Hong Kong and University of Zurich, just to name a few. Most of the work, however, is done by our research team right here in Baltimore. Learn more about our core team members here.