Therapeutic Yoga
Therapeutic Yoga Certification for the Licensed Health Care Provider
‌The University of Maryland School of Medicine Center for Integrative Medicine Therapeutic Yoga Certification for the Licensed Health Care Provider is designed to prepare health care professionals to use yoga as an integrative practice in the health care setting. Hospitals and other healthcare institutions are seeking easy and effective ways to bring yoga to their patient population and into the workplace. By providing ways to appropriately modify yoga practice for patients with health conditions, we can ensure the safety of the patients while they experience the benefits of yoga.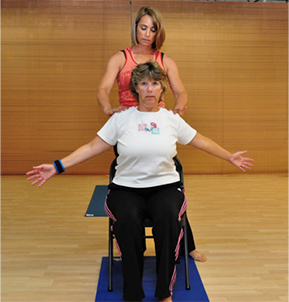 About the Program:
This evidence-based course will teach licensed health care providers to integrate therapeutic yoga into their health care practices, as well as provides the foundation for the use of yoga as a self-care tool. Topics include pranayama, meditation, yoga philosophy, asana, therapeutic yoga evaluation, and in-depth study of how to safely and effectively utilize therapeutic yoga techniques for patients with chronic diseases.
This program will be taught in both online and live seminar formats. Modules can be taken individually or all together for a certificate. Module topics will include therapeutic yoga-focused evaluation, orthopedics, cancer, neurologic, mental health, chronic pain, care of veterans, and more.

Continuing Education Credits:
Details coming soon.
When:
Classes will begin in the fall of 2018. Check back for more information or join our mailing list.
For more information:
Please contact us at CIMEvents@som.umaryland.edu and use the subject line "Therapeutic Yoga."
Not ready for therapeutic yoga, interested in becoming a Yoga Teacher? We have a great program! Learn more here.
---
---
Thank you for attending Free to Breathe Yoga Challenge with us!
Thank you to those who joined us at the "Free to Breathe Yoga Challenge" on Sunday, August 20, 2017! Our Director of Yoga Programs, Kelli Bethel, PT, C-IAYT, E-RYT 500, presented on stage and demonstrated "Therapeutic Yoga for Caregivers." You can download a free copy of her Therapeutic Yoga for Caregivers protocol here. If you have any problems with the download, please email us at CIMEvents@som.umaryland.edu. This protocol will only be available for download for a limited time. **For personal use only. Please do not distribute without permission.**