300-hour Advanced Yoga Teacher Training
We are now offering a series of modules that, once all have been comepleted, will add up to 300+ hours of advanced yoga training which will satisfy the RYT 500-hour certification requirements through Yoga Alliance. Modules may be taken à la carte as well.

Many of these workshops will also be helpful for other health professionals, including nurses, physicians, physical therapists, massage therapists, occupational therapists and others. Continuing Education will be available for many of these.

If you are not RYT or a health professional, please contact us before registering.

Yoga for Kids would be ideal for K12 teachers, physical education teachers, guidance counselors, licensed day care providers, and other educators.
The first of these modules include:
‌‌‌Upcoming Module Descriptions:
Fascia in Posture and Movement with David Lesondak
September 28, 2018 | 9:00am-5:00pm
Learn in-depth about fascia - what it is, how it works, and how it affects posture and movement, as well as the basics of patho-anatomical analysis and how to use that information to help patients decrease pain and boost performance.
7.5 YA CEUs, Certificate of Completion, CEs & CEUs tba, 8 hours towards 300-hour YTT
Ayurveda for Yoga Practitioners presented by the Institute of Integrative Ayurveda Medical Education
3 days live, plus additional online work: November 2-4, 2018 | 9:00am-5:00pm
Participants will develop practical skills for the prevention, diagnosis, and treatment of disease - including Ayurvdic pulse diagnosis - that can be immediately applied in your clinical practice, as well as your own life.
Ideal for Physical Therapists, Occupational Therapists, Massage Therapists, Othopedic Specialists and many others.
20 Hours, Certificate of Completion, CEs & CEUs available, 10 hours towards 300-hour YTT
**For yoga students only: Use code umd-50 to save 50%.** Email us at CIMEvents@som.umaryland.edu to see if you qualify.

We are co-sponsors of this event. For questions about the Ayurveda courses, please contact the IIAME directly at info@integrative-ayurveda.org or 877-540-6222 or visit their website.
Yoga for Limited Mobility
November 8, 2018 | 2:00pm-9:00pm
Learn how to create specialty yoga programming for limited mobility and the senior population including important benefits and techniques to safely and effectively teach adaptive yoga programs using chairs and other props.
5.5 YA CEUs hours, Certificate of Completion, 6 hours towards 300-hour YTT
Integrative Approaches for Chronic Pain

2 days: December 6 & 7, 2018 | times tba

More information to come
**More modules will be announced soon.**

---
PAST EVENTS

Business of Yoga
‌‌‌
Prenatal Yoga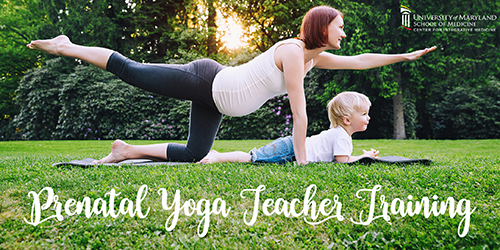 June 21, 2018 | 3:00pm-9:00pm
Learn what happens to a woman's body throughout pregnancy and how we can meet her yoga needs (physically, emotionally and spiritually) during each trimester. Learn how to help moms-to-be feel empowered during this special time and help them develop a deeper connection to their babies.
6 hours YA CEUs, Certificate of Completion, 6 hours towards 300-hour YTT
Yoga for Kids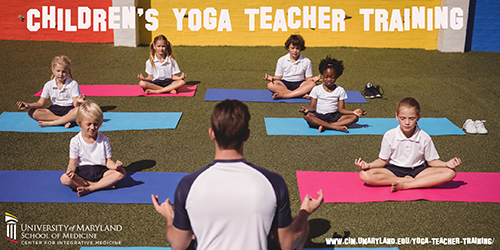 2 days: June 28, 2018 | 4:00pm-9:00pm and June 29, 2018 | 9:00am-4:00pm
Yoga can help kids learn take care of themselves and develop self-regulation skills for managing challenges of everyday life, as well as handle stresses and learn to relax. This two-day workshop will go in-depth on how to effectively teach yoga to children in order to yield maximum mental, emotional and physical health benefits.
Additionally, this workshop will address ways in which yoga can be integrated throughout the school day to enhance the learning environment.
**Great for K-12 teachers, physical education teachers, and administrators.**
12 Hours YA CEU, Certificate of Completion, 12 hours towards 300-hour YTT
---
Please note: All modules must have a minimum number of participants registered to run.

---
Are you a 200 RYT?

These modules are the first in a series of workshops that could lead to 500 RTY. Please contact us for an application and additional requirements at CIMEvents@som.umaryland.edu for more information.
---
Additional Questions?



Please email us at CIMEvents@som.umaryland.edu or call 410-706-6179. (Email is preferred.)